*Affiliate links are included in this post.
In this post, I'm featuring one of my favourite Etsy Sellers, 'Oh Sew Bootiful', an online shop specialising in absolutely stunning embroidery kits and patterns!
If you read my post a few weeks back or have been following me on Instagram lately, you may have noticed that I've been dabbling with embroidery! While I'm not all that keen on using a sewing machine, I love hand sewing, which is why embroidery (and beadweaving) is of interest to me.
I started with a butterfly embroidery kit from Hawthorn Handmade and am currently working my way through a set of three botanical-inspired embroidery kits I received for Christmas.
However, I've already got my eye on options for my next embroidery project! I came across Oh Sew Bootiful on Etsy recently and was so impressed with this store's product range, I just had to share.
Take a look at these gorgeous embroidery kits and patterns below. Click on any of the images to learn more about each pattern/kit over in the Oh Sew Bootiful Etsy store: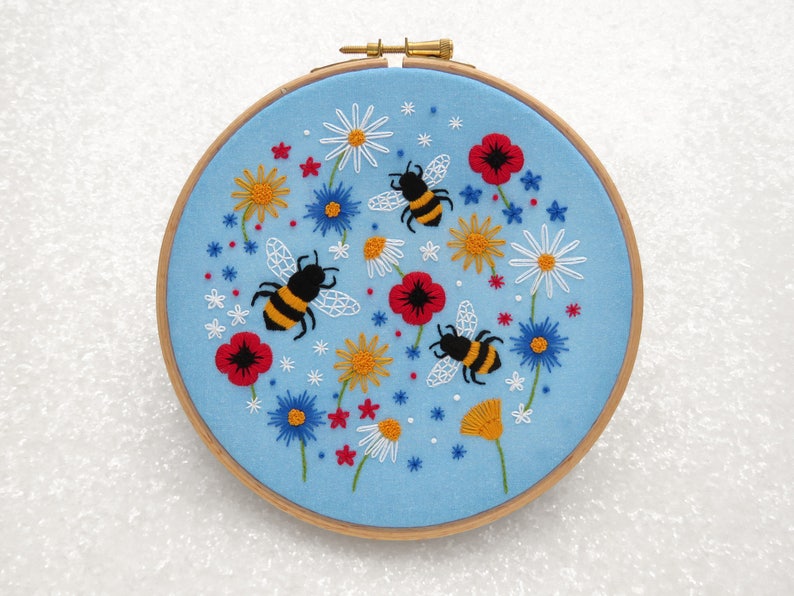 This is the kit that caught my eye first. I think the colours of the bees and flowers are so vibrant and stunning, against that sunflower blue background!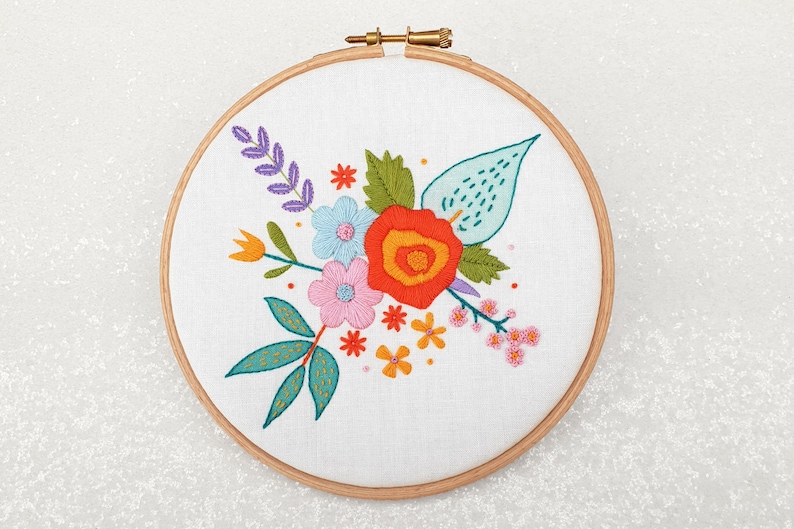 Again, the colours speak to me with this kit! I like the different colour flowers and the detail on the leaves.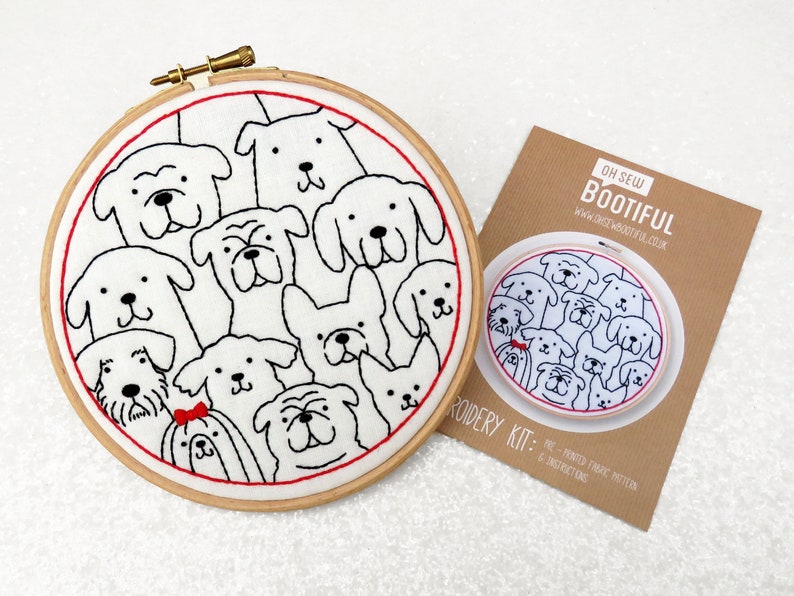 As a dog lover, I think this is fab. There are so many different types of dogs on this quirky pattern! I think this would be a good choice for someone who is new to embroidery as not too many stitch types are used, and because the colours are red and black, there's no need to change threads too often.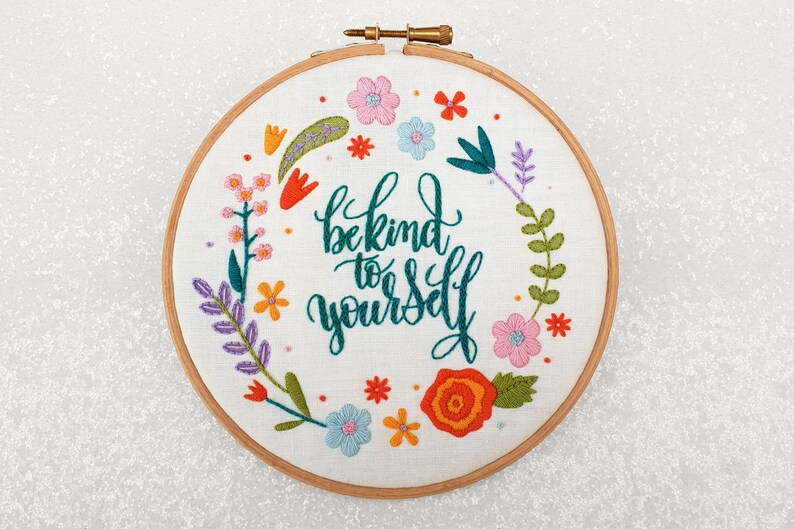 The lettering on this pattern flows and ebbs so beautifully – I wonder how challenging it would be to recreate that font and those words with hand embroidery? I'm keen to give it a try!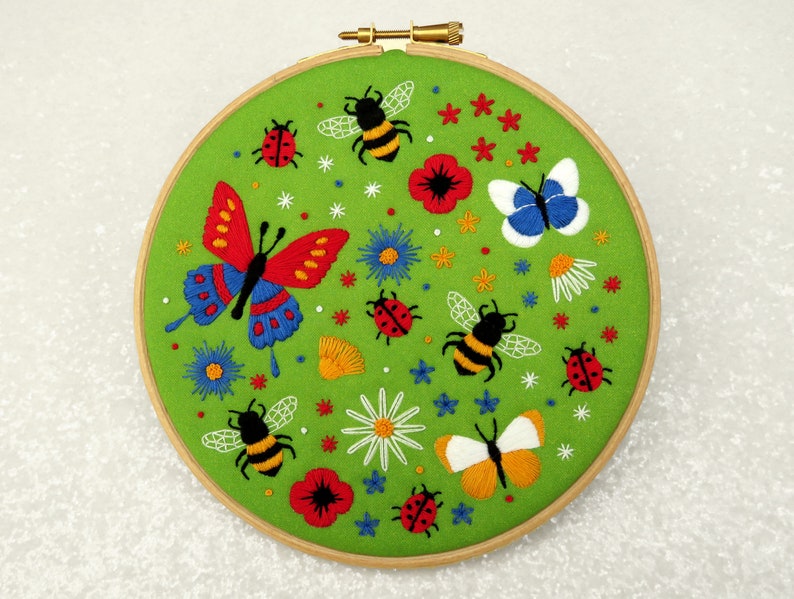 Similar to the bees pattern referenced first in this showcase, this one is equally stunning, with the addition of bright butterflies. I could certainly while away several peaceful hours with this pattern!
This unicorn embroidery pattern is ideal for novices – and I have to say, my 9-year-old daughter would love this. She's good at hand sewing and with this pattern, there are not tons of stitches to do. It could be worked up very quickly.
More about Oh Sew Bootiful
It's clear that Steph, the owner of Oh Sew Bootiful, is passionate about embroidery. Each design starts out as a hand-drawn sketch, before being transformed into a digital pattern.
Steph tests all the patterns out stitch by stitch before creating the printed fabric patterns and kits to make sure she's happy with them. This is exactly what I do with my beading patterns, so I know how much time she must put into this part of the process (as enjoyable as that will be!).
I like that Oh Sew Beautiful has a range of contemporary embroidery products to suit all budgets, including downloadable patterns at £5.40, printed fabric patterns at £9.95 and the amazing kits at £19.95 each. Worldwide shipping is offered too.
If you'd like to see the many other beautiful patterns and kits available at Oh Sew Bootiful, do head over to Etsy and check them out. You won't be disappointed!
*Craftaholique is part of the Esty affiliate programme. This means that if you click on one of my affiliate links to Etsy and make a purchase, I'll earn a small commission at no cost to you. This is one of the ways you can support this blog and help me to keep it up and running!
**Embroidery pattern and kit images © Oh Sew Bootiful (used with permission for this blog).